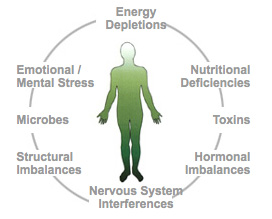 Holistic medicine was developed thousands of years ago in China. It is still practiced by Chinese people today.
While the concept of holistic medicine is ancient, its treatment philosophy is remarkably advanced.  Since the human body does not carry out physiological functions separately, holistic medicine emphasizes harmony and balance between body and mind, body and environment, and homeostasis, equilibrium within the body itself.
Holistic medicine's value and strength lie in its ability to help the organs in the body to work harmoniously and not in conflict.  Due to its success, as well as being less invasive and far more effective, millions of people worldwide are benefiting from it.  Its customized treatment techniques including acupuncture, herbal medicine, nutrition, and lifestyle counseling.  The unique tongue and pulse diagnosis provide a basis for personalized and dynamic tuning treatment for a healthy balance.
Holistic medicine in recent years has incorporated modern science into its diagnosis process.  With its unique benefits, it is now practiced in a growing number of medical practices along with Western medicine to provide optimal care for patients.