INFERTILITY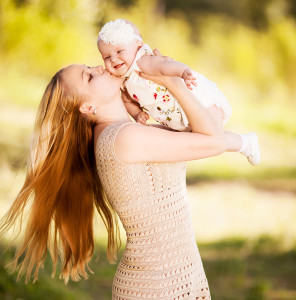 A 40-year old female is our returned patient for infertility.  Prior to coming to the clinic, she had tried to get pregnant for years.  She had failed six times with in vitro fertilization (IVF) procedures, which cost her about $100,000, as well as two cycles of failed medicated intra-uterine insemination (IUI).  She has history of uterine polyps and hypothyroidism.
She was referred to our clinic by a friend as a last resort for treatment.  She has imbalanced hormone levels with high amounts of follicle stimulating hormone (FSH) and little progesterone.  Her cycle is not very regular.  She also has severe pre-menstrual anxiety and mood swings.
The treatment goal worked on balancing hormone especially high FSH that inhibit good ovulation.  She didn't take any medication except Synthroid to maintain her thyroidal function at an optimal level.  After three months' treatment, using only acupuncture and herbal therapy, levels of FSH as well as those of other hormones were normalized based on lab results.
Within a short period, her cycle returned to normal and anxiety was reduced significantly.  Six months later, she was successfully pregnant with a healthy baby.
Two years later, she came back for a second child.  According to the patient, she tried to conceive on her own without success.  Upon reviewing the case, her cycle was too short to support a good ovulation.  She complained of fatigue after taking care of a toddler.
The treatment then focused on strengthening her energy and improving egg quality.  Within three and a half months of treatments solely with acupuncture and herbs, she was pregnant.  However after the pregnancy, she continued to exercise rigorously on a treadmill.  As a result she had a miscarriage one week later.  After explaining the risk of strenuous exercise during early pregnancy, she agreed not to do so after ovulation.  Two months later, she was successfully pregnant again.  Now She is a happy mom with two healthy children.